Make $3,500 Weekly Advertising Phone # Direct Pay System (DPS) Online Training - Webinar - Tuesday April 29th... 5pm - 6pm PDT ● 6pm - 7pm MDT ● 7pm - 8pm CDT ● 8pm - 9pm EDT
This live online training is for those who are Direct Pay System 24/7 Webinar Owners and DPS $10 Joint Venture Partners. During these weekly training sessions you will learn how to advertise a phone number on the internet and using voice broadcasting having prospects call you putting your lead generating money making efforts on autopilot. Make sure you register to be notified of the date and time of the next live training session.

Remember this is a Turn-Key Business In A Box Box with a $1,000 guarantee you will make money.

We will be talking about the business card or post card you should have printed with YOUR 800Link phone number that looks like this...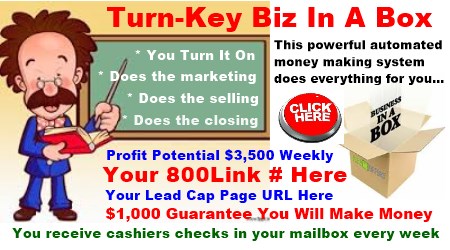 I use the 3 foot rule and pass them out to those who I meet who come within 3 feet of me. Trade shows, conventions, workshops or any other large traffic locations work perfect. When handing these cards out i make sure those prospects call
immediately
while I'm standing in front of them.
CLICK HERE to join my Meet-Up networking group plus find a local Meet-Up networking group in your area.
Last Tuesday's Live Training CLICK HERE


-----------------------------------------------------------------------------------------------------------
Silver Fox Live Online Training - Question & Answer Session - Saturday April 26th - 9am - 10am PDT ● 10am - 11am MDT ● 11am - 12am CDT ● 12pm - 1pm EDT
During this hour training session here are the topics we will cover…
The new Silver Fox Lead Factory training modules

How the NEW Silver Fox Profit Center works

The Profit Center has an Alexa Ranking below 100,000

How you can place ANY money making opportunity in the Profit Center F*ree and how I - Harvey The Silver fox - will do the selling for you.


You will learn how to make $150 giving away 100 F*ree leads every day WITH NO INVESTMENT ON YOUR PART WHAT-SO-EVER

I'm going to teach you how to hire an ARMY of home workers to go to work for YOU selling your money money making opportunities using the Profit Center

As a Silver Fox Lead Factory Manager You collect the $300 then pay your posters and telemarketers 50% of every SFLF paid Membership they generate. Hire 10 who generate only one a week make $1,500. Hire 20 - 30 - 50 who sell only one a week - YOU DO THE MATH. There are thousands and thousands of broke people who would love to go to work for you where it costs them NOTHING other than the time and effort to make videos, blogs and posts on the internet.

I will teach you how the ONE - TWO and THREE UP marketing systems work and how you will receive money to infinity letting the Profit Center do the selling for you.

You will learn how to buy and work the REALLY - REALLY Inexpensive Cheap Traffic and Leads such as 25 Guaranteed Sign-Ups for ONLY $10

How to make $3,500 once - twice even three times a weeks

advertising a phone number



CLICK HERE to access that training modules, study the training videos, take notes on questions you may have then be ready to ask those questions during the live training session.
Remember this is a TEAM BUILD... meaning those who find YOUR marketing system - on the internet and from your marketing efforts - are placed under you in the FreeToolBox 3x13 Forced Matrix moving you closer to that $20,000 monthly residual income I keep talking about. CLICK HERE for a presentation on how the 3X13 Forced Matrix system works and how you can position yourself to make that $20,000 monthly residual income.
When inviting GUESTS into the live training room make sure they are in YOUR Silver Fox Directory Of Lead Generating Tools Marketing System to insure you receive credit.

Last Saturday's Live Training CLICK HERE


-----------------------------------------------------------------------------------------------------------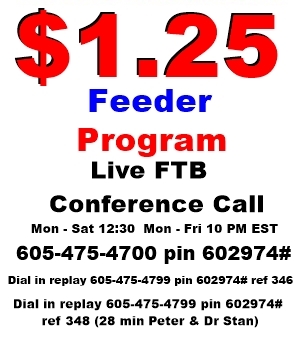 -----------------------------------------------------------------------------------------------------------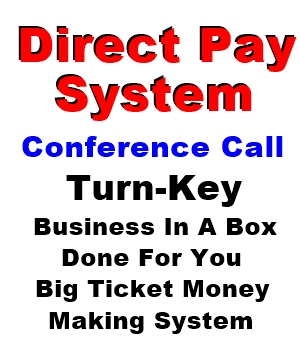 $1,000 Guarantee You Will Make Money After 60 Days!
Same call in line w/i pin for all trainings
218.632.9021
pin: 2014#
CALL #1) Tuesday Press Conference Call @ 11 AM EDT (DPS Members)
CALL #2) Tuesday Night "DPS Overview Call @ 9 PM EDT (Your Prospects Are Invited)
CALL #3) Thursday Press Conference Call @ 11 AM EDT (DPS Members)
CALL #4) Saturday Morning Training @ 11 AM EDT (For DPS Members)
PS: the 11 AM calls have been real game changers. We're not fooling around, wasting any ones time with hype, B.S. and silly nonsense. The info is real. The feedback and experiences are real. The income potential is real.
VERY IMPORTANT - Make sure when you enter the conference you mention you are with the Silver Fox Team Build

Also notify your downline